---
NCPA publishes its magazine, NCPA Forum, and its newsletter, The Amicus, quarterly. Both of these publications are products of membership benefits.
To subscribe as a non-member to NCPA Forum, click here.
 

To submit article of newsworthy information, contact NCPA Forum's Senior Editor.
Click here to return to the current Publications page.
---
NCPA
P. O. Box 36264
Charlotte, NC  28236-6264

Telephone
(704)  535-3363

Fax
(704)  372-9882 

E-Mail
[email protected]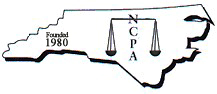 ---
[ Home ][ Membership] [ Mission Statement ] [ Reach Us ] [ Directors ] [ Officers ] [ Bylaws and Standing Rules][ Exec Comm ] [ Upcoming Events ]
[ Education ] [ Links] [ Paralegal Programs ] [ Message Boards ]
[ Photos ] [ Publications]